Internet connection
Before setting up the live stream, be sure you have a stable and fast internet connection. You may check it on your device using any speed test websites. Here is the one you may use.
Important! Test the internet speed at the location where you plan to have a live stream. The speed should be at least 5Mbps for upload. Check examples of good internet speed with different connections below.
Example of WIFI connection

Example of wired connection

Do your best to find the most stable connection to stream your show in HD (720p) or Full HD (1080p) quality.
Setting up
Go to your online event campaign page and click on Live stream icon. This is your online event studio. Here you can set up your livestream.

Important! We strongly advise to have a soundcheck before you go live for the very first time to eliminate any tech issues. Once it is done, go next.
Stream software
To stream your online event on Show4me, you may use any livestreaming app that supports RTMP protocol. We advise to use OBS as it is free and stable app. Download OBS from the official website at https://obsproject.com/ and install it.
Once it's done, you can start setting it up. The first thing you need to do is to add your camera. Go to the Scene section and click on the "+" sign.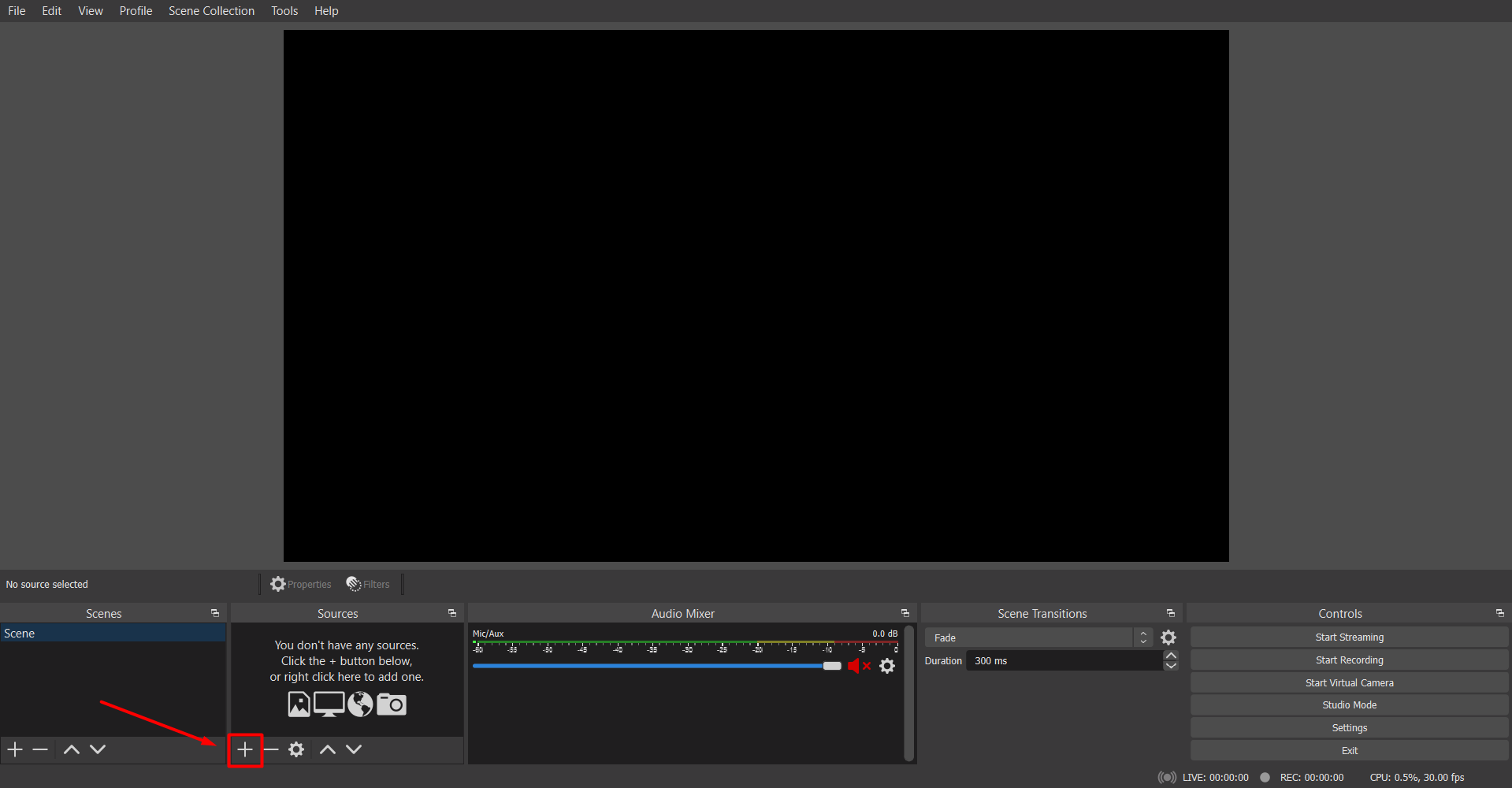 Rename it to Camera and click Ok.

Go to the Source section again, click on the "+" sign.

Choose Video Capture Device.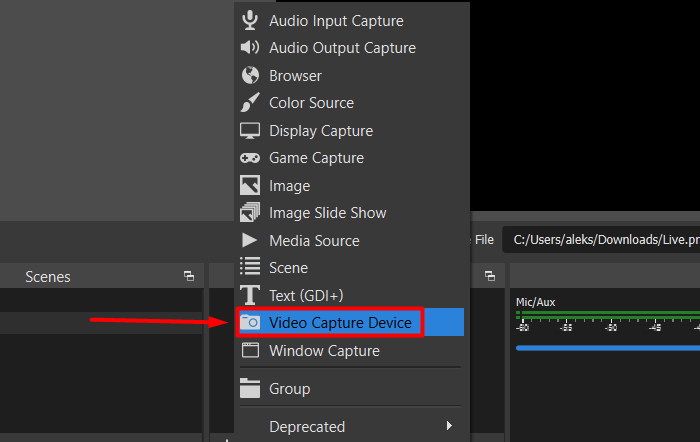 Click Ok.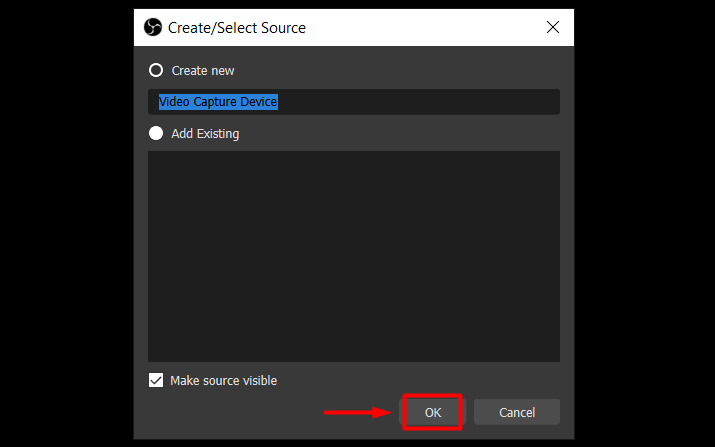 Click on the Device and choose your camera. After, click Ok to save it.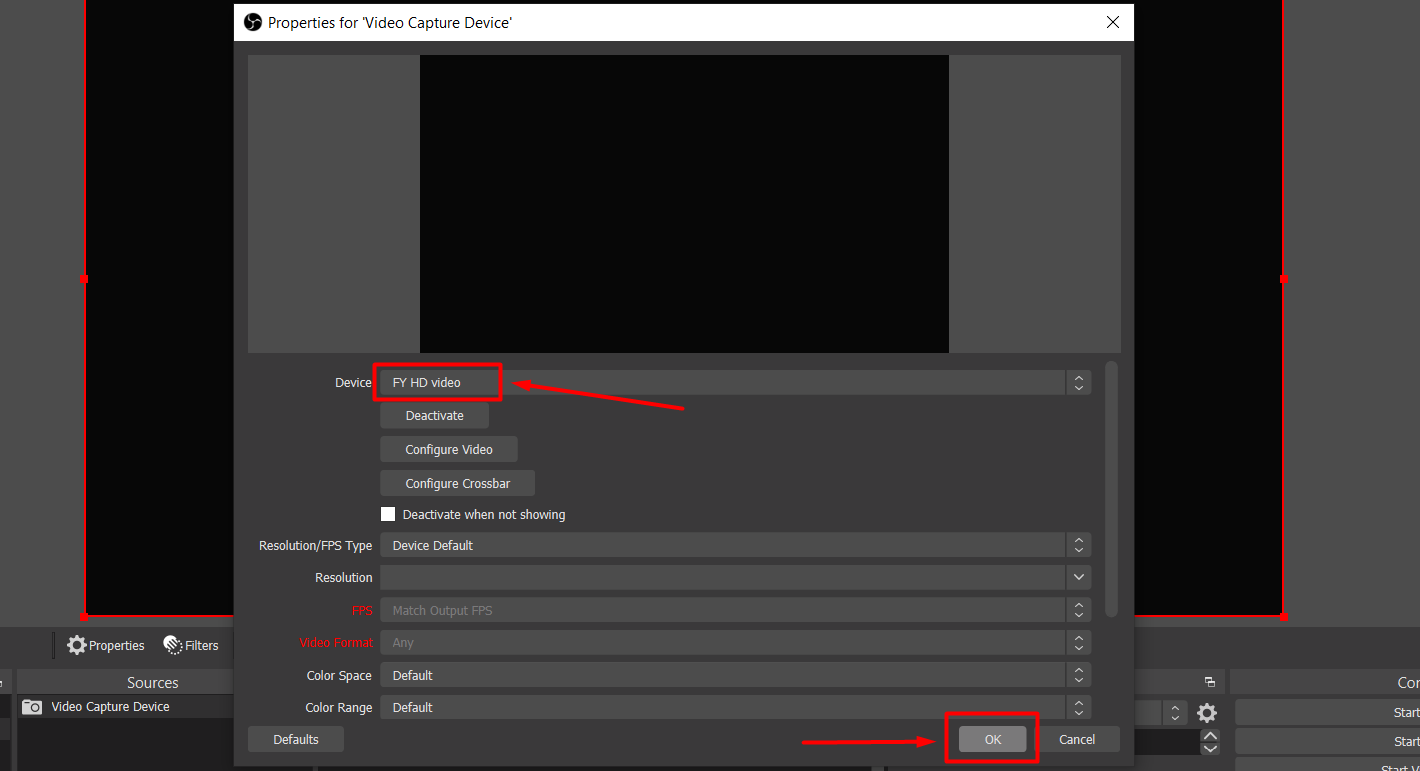 If you have an audio interface or if you want to connect your DAW application to transmit your tracks, voice, music instruments, DJ controller to OBS, add an Audio Input Capture.
Go to the Source section again, click the "+" sign.

Choose Audio Capture Device.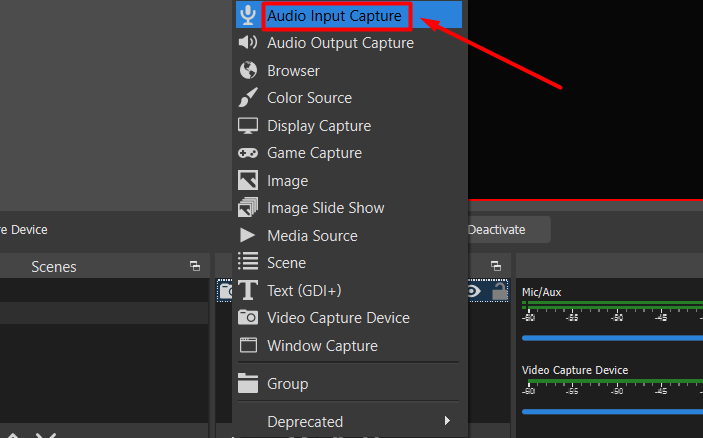 Click Ok.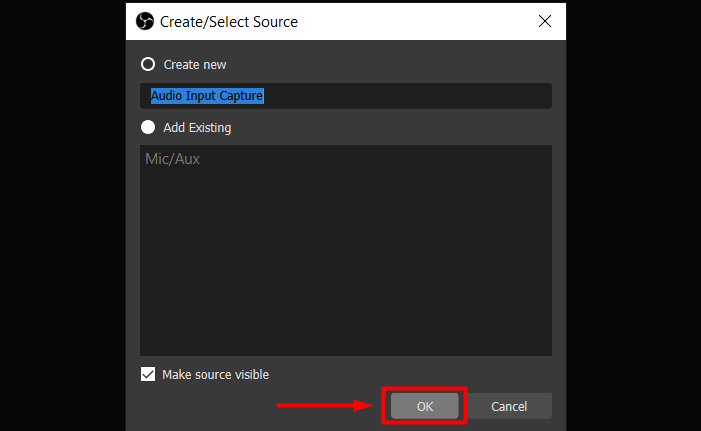 Click on the Device button and choose your audio interface or audio transmission app. Click Ok.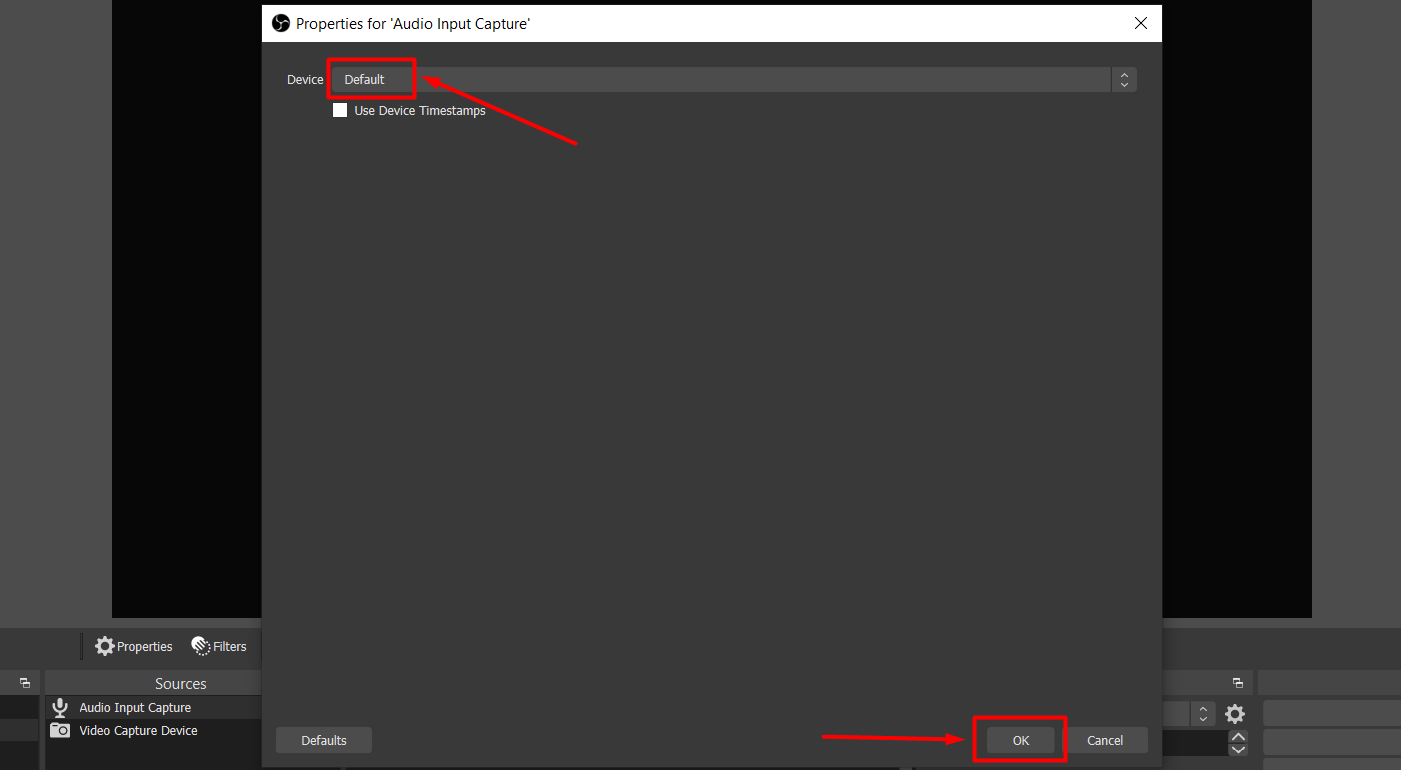 Now, your OBS settings are in place.
Note: You can use additional features of OBS to make your online event even cooler. E.g. you can share your screen, add Skype/Zoom calls (from your fans), etc. to the stream.
Live studio
Now you need to connect your Show4me account with OBS. Go back to your stream setup page on Show4me and copy the Stream server link.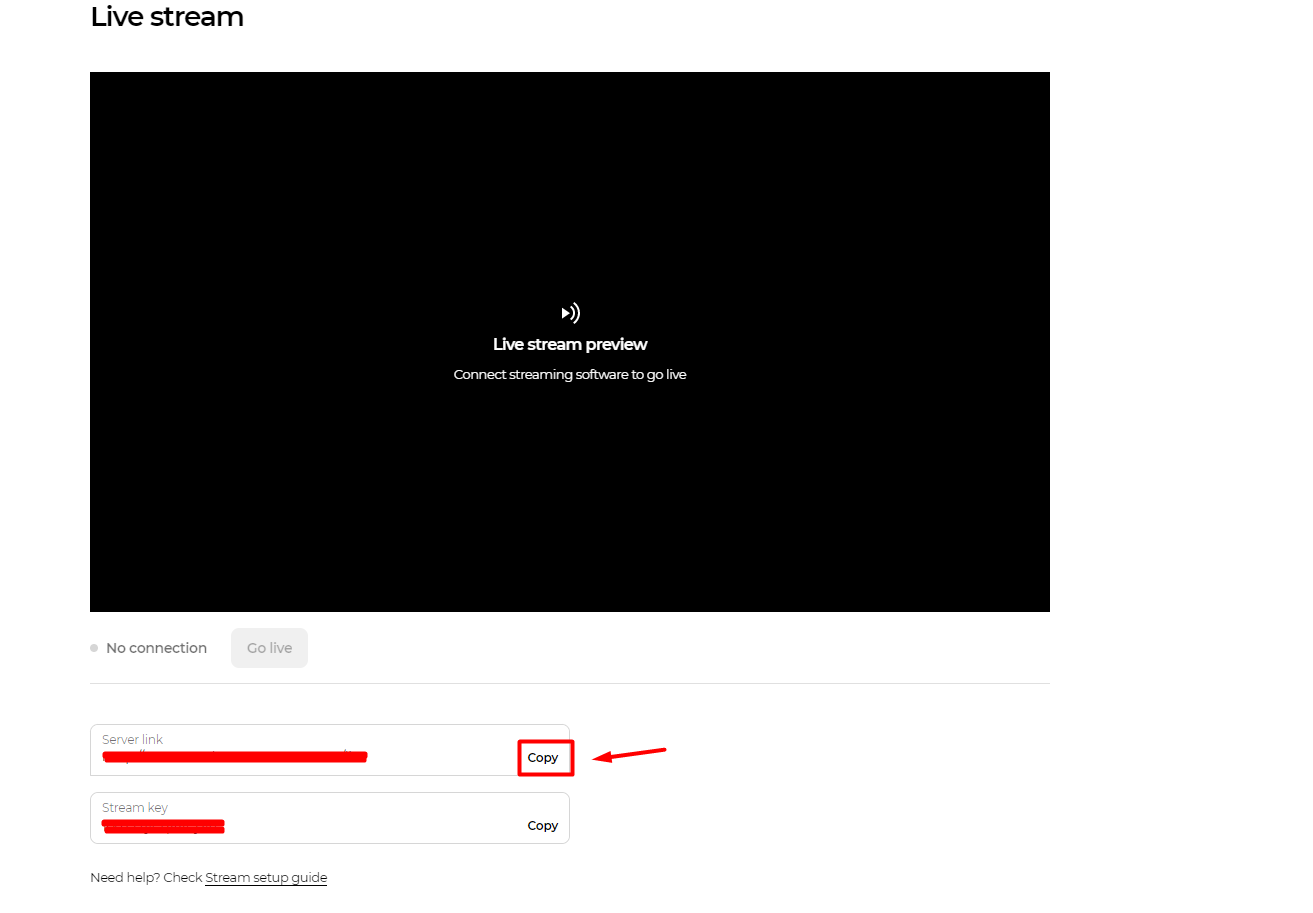 Get back to OBS. Go to Settings -> Stream.

Choose Custom for Service and paste your Server link into the Server section.

Now, you need to add your Stream Key. Go to the Show4me website again and click on the Copy Key button.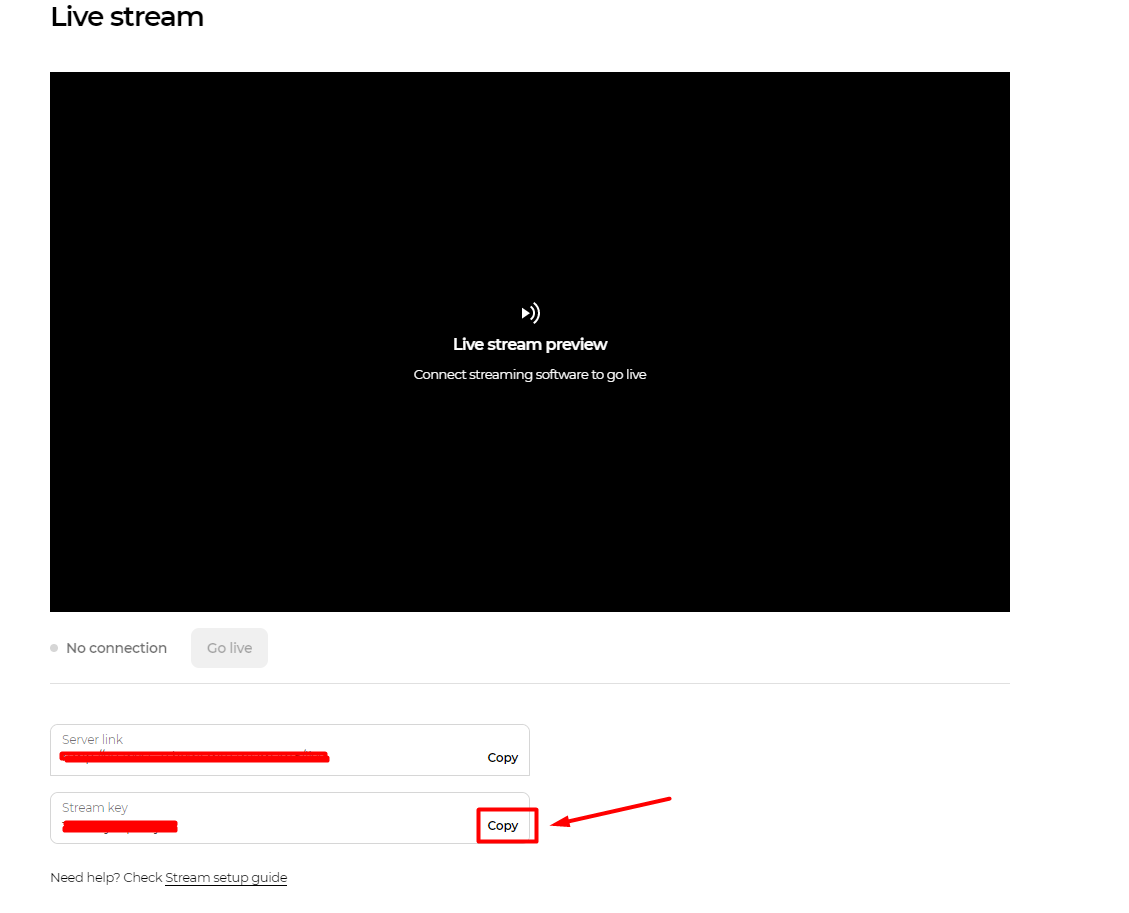 Go back to OBS and paste the Key to the Stream Key section, click Apply and then Ok.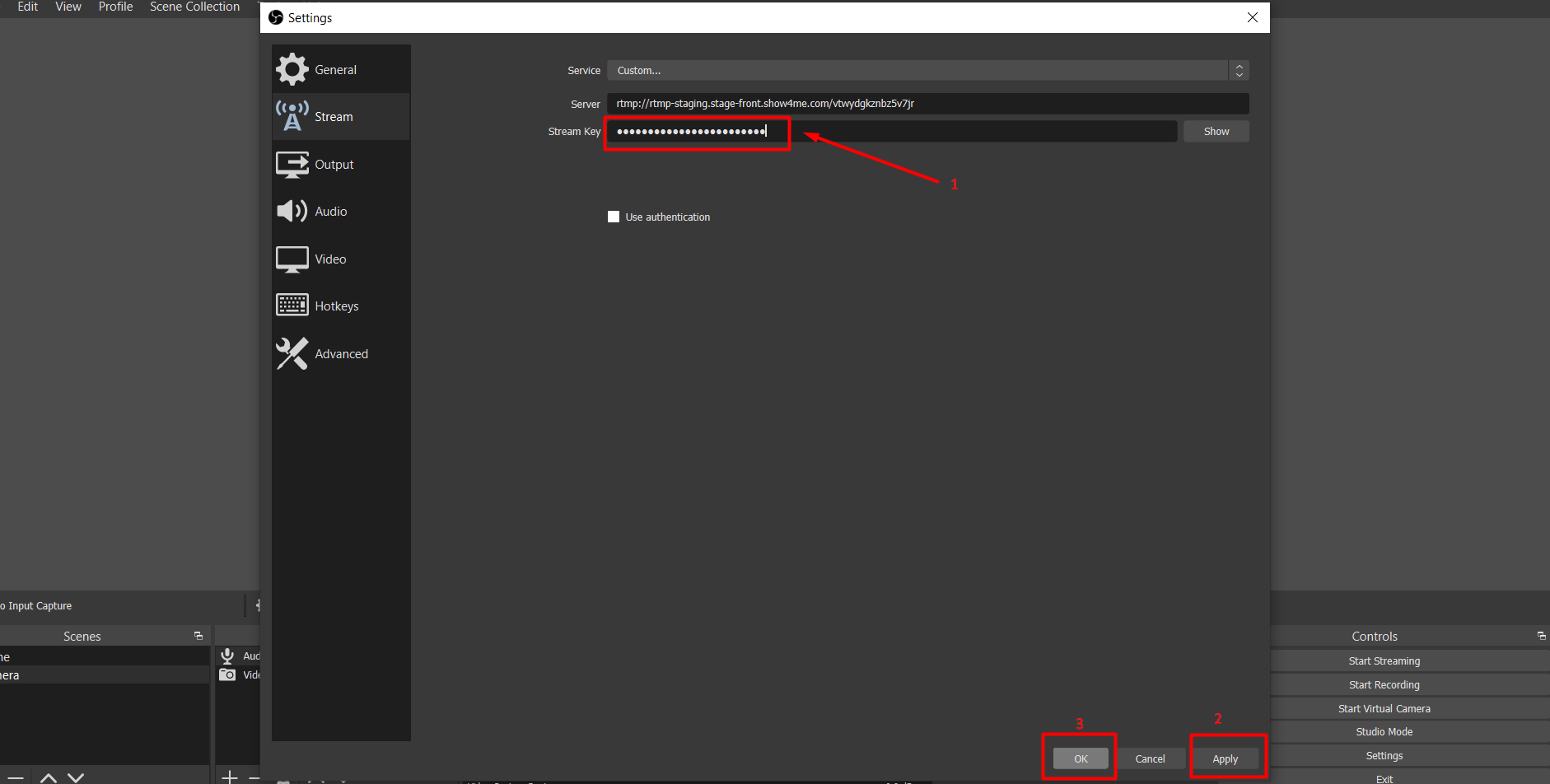 Go live
Now you are ready for the stream. To go live, click on Start streaming.

When OBS connects to your Show4me account, you get a small neon square at the bottom of the app. If your internet connection is unstable the square can be yellow or red. In this case, you won't be able to stream your show. If it's green, you can go live.

Wait for a few seconds to see the picture from OBS. You are in a Test mode, so nobody can see your preparations and soundcheck.
Click on the Go live button to start streaming to the audience. Be sure to confirm that you want to start the stream on Show4me.
To be sure you are live and fans can see you, check the status of the stream under the video frame.
Stop streaming
When the event is over, click on the Finish stream button on Show4me and Stop streaming in OBS. Be sure to confirm that you want to stop the stream on Show4me.
If you have additional questions on how to set up a live stream with your PC/MAC, reach us via a live chat or support@show4me.com.